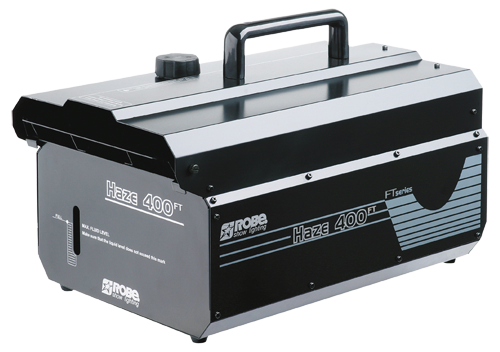 Superstille Hazer / Pfazer welke GEEN opwarmtijd heeft. Dus… inpluggen en roken maar…
Omschrijving
Wordt geleverd incl 2 liter vloeistof. Dat is meer dan voldoende voor een hele avond.
LET OP: deze machine vereist speciale vloeistof (hazer vloeistof op olie basis)
The HAZE 400 FT is Robe's professional hazer. The machine is capable of producing very large quantities of haze very quickly and quietly. The specially designed air compressor is vibration free and virtually silent in operation. In addition, inbuilt onboard DMX makes full control of the HAZE 400 FT easy. The HAZE 400 FT delivers a high volume of fine, translucent haze into any environment and uses a oil-based haze liquid.
Description
Power: 230V/50Hz
Tank capacity: 2.5 liters
Output: 2,500 Cu.ft/min.
One DMX control channel
10 meter wired remote control module included
Weight: 18.5 kg (34.2 lbs)
Dimensions: 500 x 320 x 250 mm (19.7 x 12.6 x 9.8″)